ZhongShan Tong Ye Thread Textiles Industrial Co Ltd is Located at well-known XiaoLan, the civilized town, with advantage of close neighbourhood with HongKong and Macau, transportation is convenient both by land and by sea. XiaoLan is also the strategic industrial town of ZhongShan, one of the " Four Tigers of GuangDong".

ZhongShan Tong Ye Thread Textiles Industrial Co Ltd was established in 1988. Throughout the 30 years' development, TongYe has become a well organized enterprise. TongYe started with only 30 workers in 1988. As a result of its business expansion, in 1990 TongYe moved into a new 1000 sqm factory site and increased its staff to over 100 workers. By closely adhering to its policy of "Honesty the base, Quality the best, Customer the first, Relationship win win". TongYe expanded again in 1994 to a 3000sqm site with over 200 workers. The scope of TongYe's business continued to expand. By 2002, with the development of a world wide customer base, TongYe had become a well established and well-known privately owned thread manufacturer in China. Recently in a drive to keep pace with overseas' thread manufacturers and to maintain its long term development, TongYe began a joint venture cooperation with Carolina Throwing Corporation to co-develop a line of new products and at the same time bring in the latest thread production technology. This move has provided TongYe significant improvement in production quality and placed the company in a strong position in a continuously growing and increasingly competitive market.

Today TongYe's more than 400 employees operate in a 30000sqm factory with independent office buildings, production area and empolyees' dormitories. TongYe's annual production of over 3300 tons.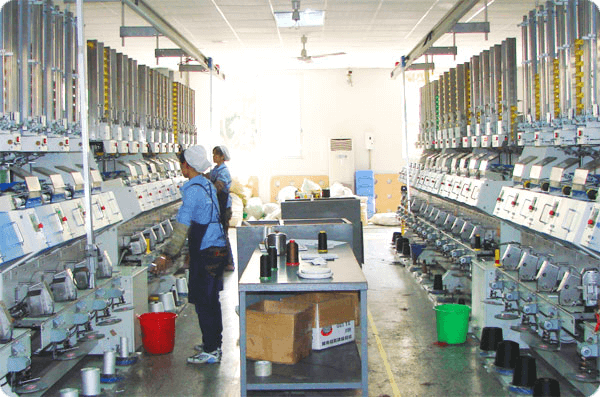 In an ongoing effort to achieve the goal of enterprise branded products and to improve productivity. TongYe introduced the latest technology textile equipment in twisting, bonderizing and fully automatic high speed winding. To comply with the objective of "Quality is Capital, Goodwill is Life" , TongYe has strengthened its management. Strictly enforce the national standard and has applied the ISO9001 quality management standard. In 2003 TongYe established the Independent Quality Control&Testing Center which is equipped with the latest automatic testing equipment. All products undergo a sophisticated quality control testing process which has standardized production and increased customer satisfaction. In response to the increasing demand for environment protection, TongYe has elevated it standard for raw material selection. All incoming dyestuffs meet international EP standards. Serious quality control provides best quality, that customer's satisfaction is TongYe's sole aim.

TongYe's main products include:TongYe brand sewing thread, high quality sewing thread, nylon thread, high tenacity polyester thread, bonded thread, belt-weaving thread, belt-weaving wax thread, continuous twisted thread, continuous twisted wax thread,100% spun polyester thread, poly-poly sewing thread, industrial and piscatorial thread. TongYe's thread are soft and shiny,colourly, durable, high tenacity, specification full and quality stable. Its comparable to top-of-the-line products worldwide. The products are distributed in China, and are also exported to Europe, USA, Middle East, Latin America, SE Asia and ect. The products are highly appraised by both domestic and overseas customers.

Ever since its establishment, TongYe Thread Textiles Industrial Co Ltd has set forth enterprise goal of "Strive for the best and to Number One". In the new era of the 21 century, Let's hand in hand and mutually benefit. Let the world know TongYe and TongYe path into the World!>. Italian RATI equipment is the most advanced twisted equipment,which characterises twisted balanced,smooth,without greasy and producing 1.5 kg thread without knotless etc. Our company also can process high quality yarn for weaving with high demand and brand mark. It is first choise to produce smooth cloth and brand mark. It has reasonable price and reliable quality.